Chiunque possieda un iPad sa bene come fare per spegnere il proprio telefono: basta infatti tenere premuto per qualche secondo il tasto di accensione ed ecco che compare il classico "slide to power off" che vi permetterà di spegnere il dispositivo. QuickPowerDown è un nuovo tweak per dispositivi jailbroken che vi permette di bypassare lo "slide to power off" e di spegnere il device in modo più rapido.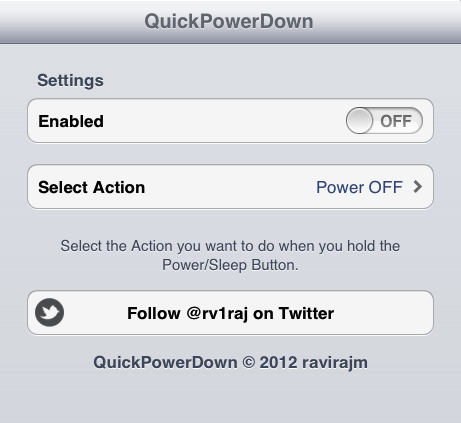 Oltre a poter disattivare lo "slide to power off", con QuickPowerDown potrete anche sostituire alla funzione standard per lo spegnimento dei dispositivi la possibilità di effettuare un riavvio o un respring. Potrete anche disattivare questo tweak dal menu Impostazioni del vostro dispositivo.
Se siete interessati, potete scaricare gratuitamente QuickPowerDown dalla repository di ModMyi in Cydia.
Cydia