Disney e LucasArts hanno annunciato lo sviluppo di un nuovo gioco per iOS e Android dal nome "Star Wars: Assault Team", che dovrebbe essere rilasciato entro questa primavera.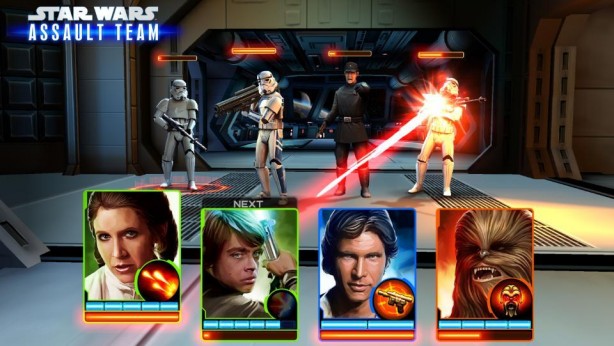 Disney parla del gioco come un nuovo gioco di battaglia a turni con carte e strategie nel quale l'utente dovrà collezionare i personaggi classici della "Rebel Alliance" e molti altri per sconfiggere i vari nemici per tutta la galassia.
Ecco l'annuncio ufficiale via Twitter, nel quale si invitano i giocatori a prepararsi per l'imminente rilascio: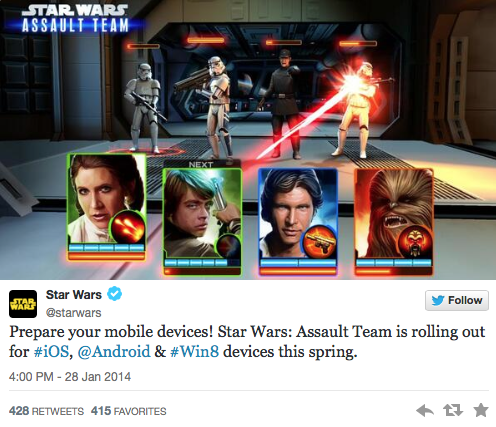 E questo è il post ufficiale della pagina Tumblr di Disney che parla del tipo di gioco in fase di sviluppo e dei personaggi:
"Disney Interactive, in partnership with LucasArts, has announced limited early access to Star Wars™: Assault Team, a new turn-based combat game for mobile devices with strategy and card-battle elements. Collect classic characters from the Rebel Alliance and more to defeat enemies and players across the galaxy"
Non sappiamo molto altro riguardo il gioco "Star Wars: Assault Team" quindi aspettiamo questa primavera per vederlo su iOS, Android e Windows 8. Di certo l'annuncio farà felici molti appassionati del genere e fan du Star Wars.
[via]
iPad Pro 11 in sconto su
News iPad